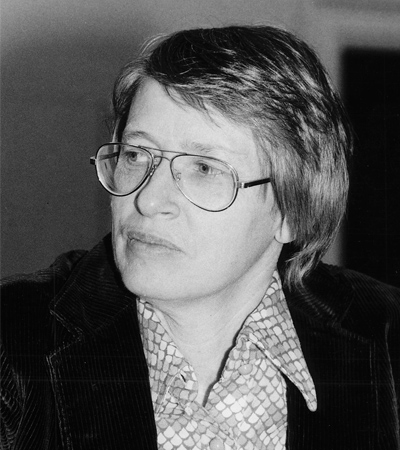 Martha Derthick was a leading political scientist in the area of public administration. She is especially known for her studies on Social Security, federalism, intergovernmental relations, the politics of tobacco policy, and the deregulation movement of the 1970s. She had a lifelong interest in gardening, architecture, and travel. Born in Ohio on June 20, 1933, she died in Charlottesville, Virginia, on January 12, 2015.
She graduated from Hiram College in 1954 with a major in history and political science, and received her Ph.D. in political science from Radcliffe College in 1962. While at Hiram, she was active in Sigma Mu Sigma and the Alpha Society, and was the secretary of student government. She later served on Hiram's board of trustees.
After graduating from Radcliffe, Derthick taught at Dartmouth College and Stanford University. From 1964 to 1970, she was on the faculty at Harvard University and a research associate with the Joint Center for Urban Studies of the Massachusetts Institute of Technology and Harvard. After a year of teaching at Boston College, she spent twelve years on the staff of the Brookings Institution, serving as the director of the Governmental Studies program between 1978 and 1983. At Brookings, she pushed for the think tank to maintain a commitment to the analysis of political institutions and government programs, and was somewhat skeptical of gearing research agendas to the immediate needs of officials for policy advice. From 1983 to 1999, she was the Julia Allen Cooper professor of government and foreign affairs at the University of Virginia.
Derthick wrote or edited at least eleven books, many of which explored the unintended consequences of federal interventions in state welfare programs. These include Uncontrollable Spending for Social Services Grants (1975); Policymaking for Social Security (1979); the award-winning The Politics of Deregulation (1985, coauthored with Paul J. Quirk); and Agency under Stress (1991). With Joshua Dunn of University of Colorado, Colorado Springs, she also coauthored a quarterly column, "Legal Beat," for Education Next.
Her numerous awards and prizes included two Brownlow awards from the National Academy of Public Administration, a Guggenheim Fellowship, and the Radcliffe Graduate Society Medal. She received numerous awards from the American Political Science Association for her work, including the 1992 John Gaus Award for a lifetime of exemplary scholarship in public administration and the Gladys Kammerer Award for Policymaking for Social Security. She served as the association's vice president in 1979, and it named a book award in her honor.