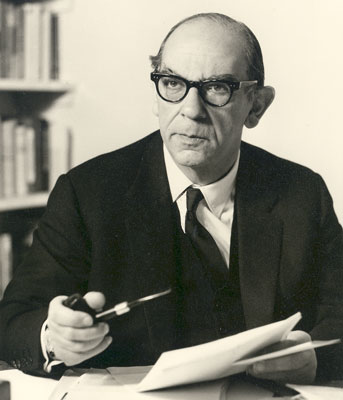 Isaiah Berlin (1909–1997) was one of the most important political theorists, essayists, and historians of ideas of the twentieth century. One of the great defenders of liberalism, Berlin wrote extensively on Russian literature, political figures such as Winston Churchill and Franklin Delano Roosevelt, and thinkers such as Machiavelli and Herder. He is especially well known for his essays on liberty and history.
Berlin was born in Riga, Latvia, in 1909. After moving from Riga to Petrograd (now St. Petersburg), Berlin witnessed the February Revolution of 1917. Violence during this period left a strong mark on the young Berlin.
By 1920, the family moved back to Riga. After anti-Semitic harassment the Berlins moved to London where they eventually settled among the English Jewish community. At first Isaiah struggled to learn the new language. After attending private schools, Isaiah won an entrance scholarship to Corpus Christi College, Oxford.
A voracious reader with an early reputation for the loquacity for which he was famous throughout his life, Berlin became a well-known undergraduate. He graduated with a first-class degree in classics and received the John Locke Prize in philosophy. After graduation he attended lectures by R. G. Collingwood, won a prize fellowship at All Souls College, and met the philosopher A. J. ("Freddie") Ayer, with whom he had a friendly rivalry for the next 50 years. Both Ayer and Berlin became interested in the promise of logical positivism.
In time, Berlin gravitated away from logical positivism and the views of another friend, J. L. Austin, toward the history of philosophy. He began to develop what would later be called his value pluralism, the idea that basic values are incompatible, a fact that poses an intransigent obstacle to attempts to realize a "perfect" political society.
Berlin's first book, a biography of Karl Marx, appeared in 1939. At the outbreak of the Second World War, he was at first denied a role in the war effort because of his Latvian origins, and remained in Oxford.
Due to his knowledge of the American political scene and growing circle of friends, he was, however, soon put to work for the British Information Services. The purpose of this position was to help draw America into the war. Once the United States entered the war, Berlin was moved to Washington, where he worked in the Ministry of Information. (Berlin learned after the war that German police and Latvian fascists had shot his grandparents in Riga in a mass execution of Jews.) In 1945–46 Berlin was in Moscow, again working for the British Information Services. While in the USSR, he met and interviewed Boris Pasternak and the poet Anna Akhmatova. Their sorry fate in Stalinist Russia helped cement his anti-Communism.
In 1946, Berlin returned to Oxford, which would be his home for the rest of his life, although he also enjoyed numerous part-time appointments at American universities. He embarked on the lectures and publications for which he became well known. He married Aline Halban in 1956 and became Chichele Professor at Oxford in 1957.
With his delivery of "Two Concepts of Liberty" as his inaugural lecture as Chichele Professor, Berlin reached the height of his fame. In the 1960s he was instrumental in founding a new graduate college at Oxford, Wolfson College.
Berlin died in 1997 at the age of 88 and is buried at Wolvercote Cemetery.